Freeware:

TrackComputer - the Original !

Go directly to the download section
You, as an experienced model railway builder, know the problem: In front of you is an open track, i.e. a gap between two track ends that you would like to close. In principle, this is no problem either, because over time you have gained experience in which pieces of track you have to use in order to fill in the gap exactly. But experience aside, you know just as well from everyday practice that precisely this problem can sometimes drive you crazy. That really screams for a solution by computer!
This is exactly what TrackComputer was developed for. This tool does everything you need to fix this problem.
For a more detailed presentation please click on the picture!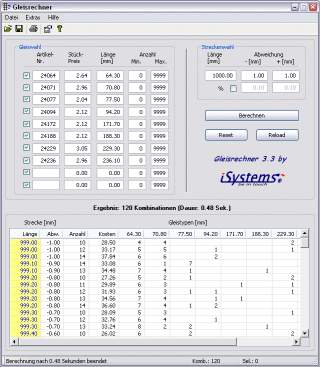 You simply enter the length of the distance to be filled in and any tolerances that you still want to accept (also in percent!). A click on the ´Calculate´ button will tell you all possible track combinations that meet your requirements.
TrackComputer comes with track libraries for many track systems of well-known brand manufacturers. You can also define your own track types at any time and store them in a library.
For the calculation, the number of tracks to be used can also be limited (e.g. at least 4 tracks of length 188.30mm, but at most 7 of them) and/or individual track types can be temporarily excluded from the solution search by a simple mouse click.
As it belongs to a professional tool, TrackComputer can be widely configured via options dialog, auto­matically loads your favorite library on startup, is scalable in size and dynamically adjusts the elements it contains, allows the result list to be sorted as desired, manages the associated article numbers on request, and and and... Of course, you can also print out the result once it has been calculated and define the format. Full HTML online documentation/help is available at any time at the touch of a button and completes the range of services.

Since its invention in 2000, TrackComputer has undergone continuous development and has thus secured its place in the model building scene as a proven and reliable tool. Anyone who owns or builds a model railway and is used to this free "little helper" would never want to miss it again. Have fun with it!

Point
Description
Name
TrackComputer (german: 'Gleisrechner')
Version
3.30;

Freeware

Language
German only (sorry!)
Operating Systems
Windows 11 / 10 / 8 / 7 / Vista / XP / 2000 / ME
Setup
Selfextracting setup file with 3.05 MB.
Notes
You must have administrator rights for the installation.
Questions ?